Divorce Application Brisbane
If you are making a divorce application, Brisbane-based family lawyers HCM Legal can work with you to ensure the process runs smoothly and that there are no delays to your divorce. It is rare that couples do not have joint responsibilities and assets, such as children, property and superannuation. These can be a minefield to navigate without the right guidance, especially if either you or your partner are seeking childcare or financial orders in court.
Our team of lawyers in Brisbane can advise you on your divorce application. With years of experience in family law, we can negotiate financial settlements, property matters, consent orders and other issues that are potentially difficult to navigate to ensure the division of your assets is equitable and fair to both parties.
What are the Grounds for Divorce in Australia?
No-fault divorce was introduced in Australia in 1975. It allows for an easier and less costly way of ending a marriage than the traditional fault-based divorce. The process allows couples to end their marriage without having to give any reasons, such as apportioning blame as to why the marriage no longer works. It is just enough that it has broken down irretrievably and has come to an end.
The process of filing a divorce application in Brisbane is the same as it is throughout Australia. One of you must be an Australian citizen or be living in Australia, and you must:
· Have been married for more than 2 years. If less, you will have to attend compulsory mediation to see if there is a possibility of reconciliation. There are some exclusions for the requirement of mediation, for example, if there is violence or child abuse within the marriage.
· Have lived separately for at least 12 months and provide evidence
Filing the Divorce Application
· Divorce applications can be filed online at the Commonwealth Court Portal, or you can download a form to complete by hand from the Federal Circuit Court.
· Your completed divorce application must be signed in the presence of a lawyer, Justice of the Peace or other person authorised in your state or territory.
· Attach your marriage certificate and two copies of other relevant documents to your application and send them with the appropriate fee.
· In due course, you will receive a file number from the court with a time and date set for the divorce hearing.
· The court issues a Divorce Order one month and one day after your divorce is granted at the hearing.
If the divorce application and filing process is too difficult for you, the divorce lawyers at HCM Legal can help you every step of the way. Contact HCM Legal today.
Does My Partner Need to Agree to a Divorce?
You can still get a divorce without your partner's agreement and submit a sole application, but the status of your application may be different if they are not cooperating with you. Similarly, if you cannot locate your spouse at the time of your divorce application, you can still apply for a divorce, but you must make efforts to locate them.
Making a Sole Application for Divorce
If you file a sole application, you will need to serve the divorce papers to your partner at least 28 days before the divorce hearing. If they live overseas, it is 42 days. Your partner has the right to file a response, and the deadlines are strict. You cannot serve the documents yourself and must send them in the post or arrange for a third party to serve them by hand.
Making a Joint Application for Divorce
A Joint Application for Divorce can be made by you and your partner together. Neither of you needs to attend the court hearing, even if you have children under 18 years old.
What if My Spouse Refused to Accept the Divorce Papers?
Even if your partner refuses to accept the divorce papers, the court can still grant a divorce. You will need to ensure the papers were served in accordance with the rules and have proof. If a third party is hand delivering the papers, they have to hand them directly to your spouse and complete an affidavit signed and witnessed by a lawyer of Justice of the Peace.
If it is proving difficult to serve the divorce papers to your partner, you may apply to the court for a Substituted Service Order that allows the papers to be served in another way, such as by Facebook Messenger, email or at their place of work. If your partner is being difficult, and you are wondering how to proceed with your divorce application, contact our Brisbane team who can advise you.
What If I Do Not Know Where my Spouse Is?
You can apply for a Dispensation of Service from the court if you have used your best efforts to find them, and you have checked your spouse hasn't died. Keeping records of your searches, including the times, dates and outcome are crucial in demonstrating you have made every effort to locate them, as these will be required by the court. Searches should include:
· Searching the electoral roll
· Calling your spouse's work, their family and friends
· Searches on White Pages and Google
· Searches on social media, including Facebook, Instagram and Twitter
A divorce is just a dissolution of marriage and does not provide for the division of assets or childcare arrangements
How Long Will the Divorce Process Take?
If you and your partner agree on all the facts a divorce can be granted in around 3 months. But, it is worth remembering that a divorce is just the dissolution of the marriage and does not provide for the division of assets or childcare arrangements. Even if you and your partner are amicable, resolving these issues can be testing and complex.
Thus, you may be negotiating these issues for some time—and until you do you should not submit your divorce application as it will only delay the process, or be refused. The more complex your divorce is, especially if you have to go to court if you cannot come to an agreement, the longer it will take for your divorce to be finalised.
This is when the advice of a team of specialists can help you with your divorce application. Our Brisbane team have the expertise to guide you to bring your divorce to a speedy conclusion.
How Long Does it Take for A Divorce Application in Brisbane to Become Finalised?
Divorce potentially has many complicated steps, and the time can vary enormously before a divorce is final. If you and your spouse agree on all the facts in an application for dissolution, including care of children, property, finances and other assets, then it can take as little as 3 months from making the divorce application to the Divorce Order being granted.
However, it is important to remember that you and your partner may well be negotiating the division of assets for some time before you put in the divorce application. If your partner is not cooperating or the divorce is complex it may take significantly longer.
How Much Does It Cost to File a Divorce Application in Brisbane?
The fee for filing a divorce application is normally $910, but you may be eligible for a reduced filing fee of $305 on the basis of financial hardship or if you meet the requirements for a general fee reduction, such as having a government concession card.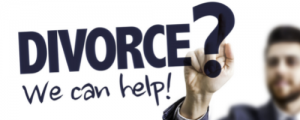 Need Help With Your Divorce Application? Our Brisbane Team Are Ready to Help.
Divorce can be a challenging and difficult process for everyone involved but it doesn't have to be with the right team on your side. Contact HCM Legal today before you commence your divorce application. Brisbane-based, we can get you on the road to starting your new life with peace of mind.