Divorce Parenting Brisbane
Divorce Parenting Brisbane Specialists
Divorce is tough on everyone and is especially so for children. The atmosphere in the family home may have been tense and a difficult time can become more stressful when it comes to making arrangements for the children once the parents have separated. HCM Legal understands how tricky it can be to negotiate the arrangements for divorce parenting. Our Brisbane team can assist you in navigating your way to a satisfactory arrangement that works for you, your partner and your children.
No matter what the custodial role is in your family, it can be daunting to figure out how to divide your child's time and have them spend the appropriate amount of time in each home. There are no rights and wrongs about how much time children have to spend with each parent, as long as they have a good relationship with them both.
What Do Parenting Arrangements Cover?
Both parents have responsibilities and duties for bringing up their children and in any agreement, the arrangements must be in the children's best interests as well as practical. Some of the common arrangements in Brisbane divorce parenting agreements include:
• Where the children live
• Schooling and after-school care
• Financial support
• Medical issues
• Religious or cultural practices
• Who the children spend time with
• Which parent has responsibility for the arrangements
• How the parents will communicate with each other
• The children's own views
There are no rights and wrongs about how much time children have to spend with each parent, as long as they have a good relationship with them both.
Who Can Be Involved in Parenting Arrangements?
The courts recognise that grandparents and extended family can often play an important role in children's lives. They can often be included in a parenting plan, consent order or parenting order if it is in the children's best interests, along with the parents.
It is not always necessary to go to court to make formal parenting arrangements for your children. Often, divorcing parents will come to their own agreements about childcare that suits both parties and the children. But, it is worthwhile knowing what routes you can take when assessing how you are going to manage divorce parenting in Brisbane.
There are a number of formal and informal options with some being more preferable than others, depending on what your circumstances are.
Parenting Plan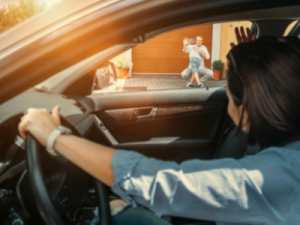 A parenting plan is an informal written agreement between the parents that sets out the care arrangements for their children. It does not have to be witnessed, or laid out in any specific format, but it is signed and dated by both parents. The plan can be changed at any time by making another signed and dated written agreement.
Although a parenting plan is not legally enforceable, you should get legal advice before making one. Our team have years of experience in divorce parenting and our Brisbane office can advise you on what form your arrangements can take so that you, your ex-partner and your children can get the most out of your situation.
Consent Order
Consent orders are made at court and set out the agreement parents have made about the arrangements for their children. They are a way of formalising your agreement and have the same effect and force as if you had gone to court for an official hearing.
Thus, breaking a consent order is breaking the law and you will be penalised for doing so. Although consent orders are typically made between the children's parents, other relatives, such as grandparents can be involved in making a consent order.
You apply for consent orders by completing the Application for consent orders kit, attaching the proposed orders, and completing an Annexure to draft consent parenting order. The consent order is signed, witnessed, and dated by a lawyer, Justice of the Peace, or another appropriate witness.
Although you don't need a lawyer, it could affect your future rights. Divorcing parents in Brisbane should seek specialist legal advice from our team of family lawyers to ensure you are fully aware of what you are agreeing to and whether there is a better way of preserving your rights.
Once the consent order is approved by the court, both parents receive a copy which cannot be changed unless by further consent order, parenting plan or parenting order.
Breaking a consent order is breaking the law and you will be penalised for doing so.
Parenting Order
A parenting order is made by a court if the parents cannot agree on the arrangements for the children. The order made by the court setting out the arrangements for your children and your parental responsibilities.
To come to a decision, the court will consider what is in the best interests of the children in terms of the benefits of having a meaningful relationship with both parents, as well as protecting the children from physical or psychological harm. The latter consideration will take precedence over the former if the two conflict.
Other factors that are taken into consideration may include:
• The children's wishes
• The kind of relationship between the children and parents or grandparents
• How active each parent's role has been
• How each parent has fulfilled their parenting duties, including financially and otherwise
• The lifestyle, background, maturity and traditions of the children and parents
• Whether there is violence in the family
Once the parenting order is made by the court, it is breaking the law if either parent does not comply with it. Before you apply to court for a parenting order, it is advisable to seek legal advice for divorcing parents from our Brisbane team.
In most cases, you will need to demonstrate to the court that you have attempted to resolve your disagreements over your parenting arrangements with mediation prior to making an application for a parenting order.
Mediation
Our team in Brisbane can assist divorcing parents as they try to reach an agreement through mediation. Mediation is a process that seeks to find common ground between the parents and try to find a mutually satisfactory resolution in order to avoid court action. If an agreement is reached, it is sent to court where it becomes finalised as an order. If an agreement cannot be reached, each parent must discuss further strategies with their lawyer to try and resolve their differences, or go to court.
Further Information About Divorce Parenting in Brisbane
Take the first step to creating the life that you desire with our divorce lawyers who specialise in Divorce Parenting in Brisbane. Contact HCM Legal today 0406 073 512.