Australian Visa for Canadians
Australia is a popular travel destination for Canadians, particularly as the process of entering Australia has been simplified with the Subclass 600 ETA (Electronic Travel Authority). As a Canadian citizen, you can make the application for this visa online. As long as you meet the basic requirements stated by Australia's Department of Home Affairs upon which visas are granted to foreign nationals seeking to travel to Australia, your visa will enable you to stay up to 3 months on each visit.
How Do Canadian Passport Holders Apply for an Australian Visa?
You can apply for an ETA online at the Department of Home Affairs website. You will need to enter your Canadian passport details as well as some biographical information, a valid email address and your phone number. You will also need to supply valid debit/credit card information to pay the non-refundable fee of AUD $20 to have your application processed.
It is imperative that you enter all the information accurately. If there is any inconsistency between the information contained in your passport and the information you have entered in your visa application, then it may result in the rejection of your application which means you will not be allowed to enter Australia.
If any details change, such as your phone number or email address, you must notify the Australian Home Office to ensure there are no discrepancies.
How Long Does the ETA Take to Process?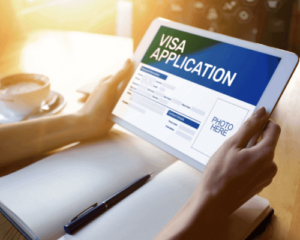 Typically, most applicants receive a response immediately. However, some applications may require additional processing and you will need to check back in 12 hours to see if your application has been approved.
Once approved, the ETA is forwarded to your email address—which typically takes 3 days. You should keep an electronic copy on your phone and print out a copy to show at the Australian border/airport. If you fly to Australia you will be required on the plane to fill out an IPC (Incoming Passenger Card) with details of the address you are staying at, travel plans, contacts in Australia and customs declarations. Once cleared by the Australian Border Force, your ETA will be attached to your passport and this will allow you to travel to and within Australia while your visa remains valid.
What If My Application is Not Approved?
If your ETA is not approved you will need to contact your nearest Australian visa office. In Canada, it is based in Ottawa. You will not be charged another ETA service fee if you are referred to an Australian visa office to follow-up your ETA application.
What are the Requirements for Canadian Citizens to Apply for an ETA Visa?
To enter Australia, all visitors must meet basic eligibility requirements, such as having a valid passport that does not expire for at least 3 months after arrival, and being a genuine visitor who intends to stay in Australia only temporarily, obeying any conditions attached to their visa. Other conditions of the Australian visa include:
Meeting Health Requirements
To protect the Australian public from health and safety risks, and to ensure medical services are not overwhelmed, foreign nationals entering Australia must meet minimum health requirements. Thus, any arrivals from countries with a high risk of disease, such as Ebola or tuberculosis, may be required to undergo health examinations. Similarly, visitors with certain medical conditions entering Australia on a temporary visa may be required to have a chest -ray and medical examination or provide a letter from their doctor confirming their "fitness to travel".
If you plan to visit Australia with a criminal record, you must be truthful about any criminal convictions you have received.
Meeting Character Requirements
Visitors must be of good character to gain entry to Australia which means you:
· Do not have a significant criminal record
· Have not been involved in criminal activity or member of a gang or group associated with criminal conduct
· Have not escaped from an immigration centre
· Pose no risk of engaging in criminal conduct in Australia
· Have not been found guilty of a sexual offence against a child
· Do not have a domestic violence order issued against you or had a conviction for domestic violence
If you plan to visit Australia with a criminal record, you must be truthful about any criminal convictions you have received. You will be required to make an application that allows you to disclose your offence and sentence rather than use the electronic application. You may still be granted a visa for Australia, even with a criminal record but it may be helpful to seek legal advice from an expert immigration lawyer before you submit an application.
Not Being in Debt to the Australian Government
If you or a family member owe money to the Australian Government, they must have paid it back or have an arrangement to do so.
Covid-19 Entry Restrictions in Australia
The situation regarding Covid-19 is fluid and you will need to check up-to-date travel advice for entry requirements and restrictions in Australia before you travel.
As of November 2021, for international travel in and out of Australia, evidence must be shown that you have been vaccinated against Covid-19 with a vaccine approved or recognised by the Therapeutic Goods Administration (TGA). You are considered by
be fully vaccinated if you have completed a course of two doses at least 14 days of:
· AstraZeneca Vaxzevria
· AstraZeneca Covishield
· Pfizer/Biontech Comirnaty
· Moderna Spikevax
· Sinovac Coronavac
· Sinopharm BBIBP-CorV
· Bharat Biotech Covaxin
Or one dose of:
· Johnson & Johnson/Janssen-Cilag COVID vaccine
Seven days must have elapsed since receiving the final dose of vaccine in a course of immunisation to be considered fully vaccinated. If you do not meet the above doses schedule, you do not meet Australia's definition of "fully vaccinated", even if you do in your country of origin.
You must also provide evidence of a negative PCR test to your airline when you check in for your flight to Australia. This must be taken within 3 days of your flight's scheduled departure.
Proof of Vaccination Overseas
You must present a vaccine certificate issued by the country you received your vaccine in if you have been vaccinated overseas and declare your vaccination status in an Australian Travel Declaration. This applies to Australian passport holders as well as overseas visitors.
Further Information About Australian Visas for Canadian Citizens
For further information about the Australian Visa for Canadians or other Australian visas contact HCM Legal—experts in all aspects of Australian immigration law.